IT LIVES: Small Biz Start Up Guide
Meet the
Small Biz
Start Up Guide
I know Braden and Lauren because they are both previous clients of mine and because we all played a big role in forming Denizen, the networking group in San Diego for small business entrepreneurs.
What's more is that we found out over the last year and a half-ish that our services really compliment one another's, and as a result, we ended up passing each other a good number of referrals and even working on the same client's projects together!
We are all very passionate about small business and cultivating communities around brands. Braden pitched us the idea of writing the Small Biz Start Up Guide to help new entrepreneurs with small biz planning, legal and branding process... and Lauren and I were all in!
Of course... I couldn't keep my hands off designing the brand and website:
The problem we've solved...
In the beginning stages of creating this guide, we realized that there really wasn't a comprehensive guide out there to starting a small business that covered these three topics as much as we knew we could.
We found that most of the clients that came through to our email inboxes in our prospective businesses had a business idea in mind, but no clue where they should start!
The first thing we tackled was a Master Timeline which gives all the steps (in chronological order) that new business owners should take in forming their small biz.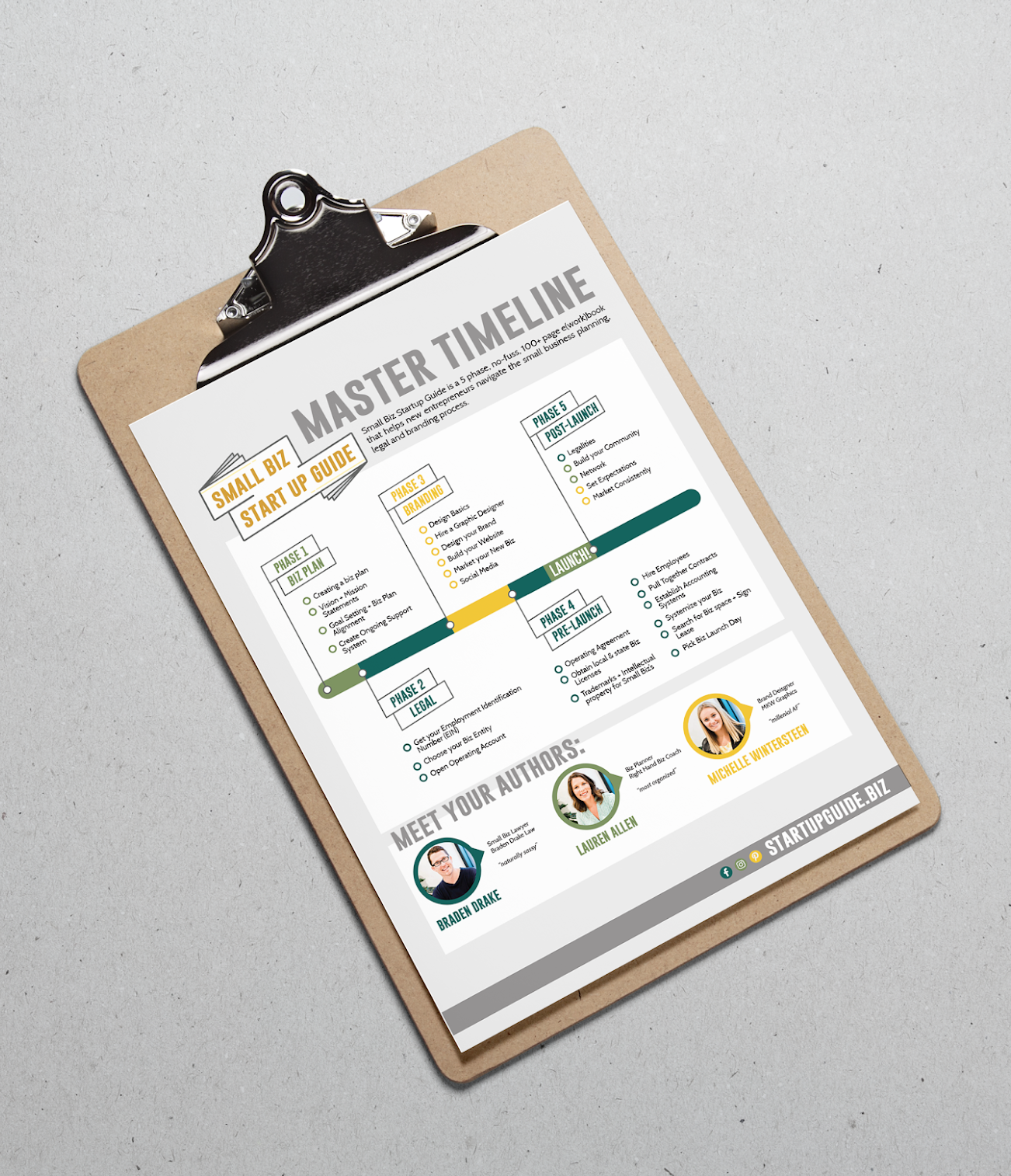 This document became the roadmap and structure for our 5-Phase, no-fuss, e(work)book!
From Idea to Final Product
It was, and I don't say this lightly... A PROCESS to get this guide written, edited, designed (CAN YOU BELIEVE? ~*in Jonathan Van Ness Voice*~ that this guide took over 80 HOURS to design?!) BUT, the end result is quite fantastic if we do say so ourselves!
Here's what you can expect from the Small Biz Start Up Guide:
Comprehensive coverage of Small Biz Planning, Legal and Branding... don't believe me? Peek the Table of Contents


'Learn the Lingo' Sections that cover Small Biz terminology used throughout the guide


Fill-in-the-Blank style worksheets and infographics on topics like Goal Setting, Mission and Vision Statements, Entity Formation, Small Biz Taxes and Deductions, Design Process and Marketing Content Brainstorms


It's busting at the seams with Sidebar Content. As we wrote the guide, we realized that each of us authors could not butt out of other chapters. We've added author's notes, stats, guides, charts and tables in the sidebar throughout the guide.
What you can Expect from the Small Biz Start Up Guide Brand
As an official business partner in the Small Biz Start Up Guide (eek!) I can say with great confidence that there are so many ways we can use this business to help empower, educate and collaborate with Small Biz Owners like yourself! (Yep, made an educated guess here!).
Here's what we've got in store for the Small Biz Start Up Guide:
LOTS of Blogs: we've already kick started this! The #BizMode Blog will cover planning, legal and branding but also will be an opportunity for us to highlight Small Biz Owners and their entrepreneurial journeys!


Speaker Series: We are in talks with many of the San Diego area coworking spaces about conducting presentations, events and panel discussions around the topics we cover in the guide. These events will be FREE to attend, and will give you some great insight to what's in the Guide!


Video Content: I am MOST excited about the Small Biz Start Up Guide Youtube and IGTV videos that we want to produce. We believe that video has some pretty remarkable power, and that some entrepreneurs learn better when something is explained in audio/video format than in blog post or book format!


Community Building: Entrepreneurs who buy our guide will have the option to join our closed #SBSUG Facebook Group, where Lauren, Braden and myself will be answering questions, giving advice and fostering conversations around small business life!
What People are saying about SBSUG
We've already received great feedback on our Small Biz Start Up Guide since our launch! Here's what readers have to say about the eBook so far:
"Where was this when I started Mod. Merchant?!?! Instead I spent countless hours online trying to figure everything out myself! This guide is awesome! The authors did a great job of covering all the important details of starting a business in an easy to understand guide complete with checklists to keep you on track. It's a fantastic resource for you as your launch your business!"
- Sarah Ferrence, Mod Merchant
So, what are you waiting for?! Go get that guide!